Only those, who do their work with passion and true commitment, timing to perfection in given to them tasks realization, obtain the success. We are creative and innovative. Using our knowledge and new logistic and technological methods we unceasingly broaden range and quality of products.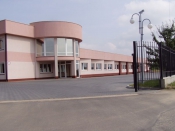 Intensive development since early eighties established two industrial plants with total space 5 hectares. There are 20.000 sq. m. of production and warehouse halls on that space. But we do not settle for this. We invest in people, in technology and in the future because only steaming ahead we can together with our Customers and contracting parties obtain the success. Many years' experience and own technologies of production study in support on Polish Standards and the directives of the European Union caused that our products are the highest quality and the competitive price. All our products are marked after every one running meter, on special order; we make any part of production in any possible color. The products have certificates of safety mark 'B' and CE certificates. Copper delivered both from polish foundry and from abroad is the basic material for our production. We also produce rubber by ourselves and use PVC and PE..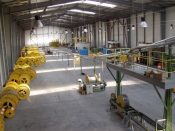 We lead our activity on the regional, national and international level. EK Elektrokabel CABLES FACTORY Karolak and sons sp. j. exists on the market since 1983. The main trump of our firm is the high quality products supported many years' experience, own base and the solid subsidiaries of modern machines. We are one from the first polish companies which started the production of rubber cables from EPDM and CR in a CV-line and the production of energetic cables low voltage in the full range of cross section.
Our offer consists of over 500 products designed for small, average and those largest firms. We produce from basic installation wires through low current wires for car industry, coaxial cables, highly flexible cables for maintaining as much as ground power cables and rubber insulation wires.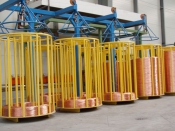 High qualified and motivated workers, organizing their work in team skillfully are our staff. Relations based on confidence and partnership cause that the workers identify with the firm strongly. It inflicts on their very good contacts with Customers and their long-lasting confidence to our company. Good organizational structure of the firm, internal procedures and stable position on the market gives our Customers the feeling of certainly and safety.
Please do not hesitate to contact us to receive the best offer from us. We give very high discounts from the basic price list.